Cute, non-slip women's work shoes are hard to find. It's even harder to find work shoes and boots that fit right. And if you're looking for something affordable, too, you might think you're out of luck. Fortunately, that's not the case!
The fact is, there are loads of cute, non-slip women's work shoes and boots on the market. You'll find shoes and boots for different needs, a variety of colors, styles, and materials -- and quite a few safety options, too.
You just have to know what you're looking for.
How to Choose a Work Shoe
You have a job to do and so do your shoes. Their job is protecting your feet, as well as protecting you from slips, falls, and other mishaps.
Different styles of work shoes protect your feet in different ways. Understanding the different safety features can help you to pick the best protection from your feet.
And then you can start thinking about style.
Support
The first order of business is support. Everyone who spends the day on their feet needs adequate support.
However, some situations call for a high-top boot to support the ankle. Good ankle support can protect you from slips and twists. This is especially important if your job involves carrying heavy things.
For other jobs, you might be more comfortable in a low-top shoe. Low-top shoes are lighter, which means that it will be easier to stay on your feet longer.
A low-top shoe can be a good work shoe option for people whose work involves constant walking, but not necessarily heavy lifting and carrying.
Still other jobs call for a clog-type shoe. Clogs are a favorite, for example, of nurses and kitchen crews.
Non-Slip
Slips and falls are a big deal in many professions. If you encounter water or other liquids, or even snow in your profession, then slip-resistant soles are a must.
Hard Toe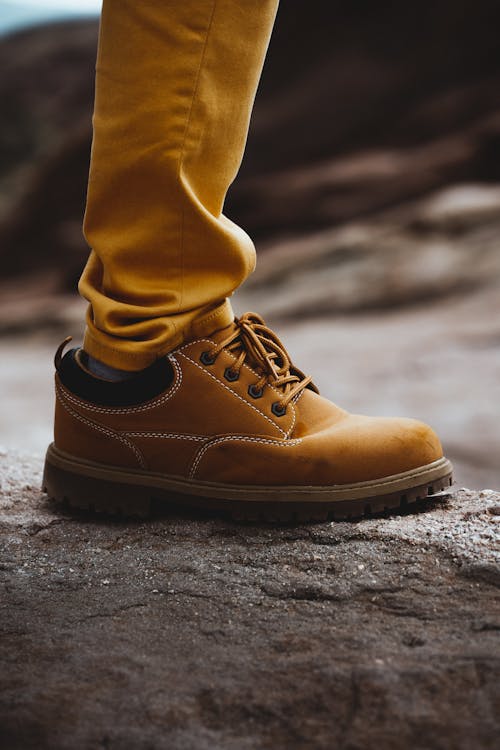 There are three types of toe protection in most work shoes: steel, alloy, and composite.
Steel toes are a workplace tradition. Of the three types, steel is strongest. They're also less expensive than composite toe shoes.
Related Read: What Are Steel Toe Boots?
Composite toe shoes, on the other hand, are lighter and more comfortable than steel. They can be bulkier, however.
Alloy toe protectors contain a mixture of metals.
Sole
The soles of work shoes tend to be either rubber, Vibram, or TPU (thermo polyurethane).
Rubber is slip-resistant, oil-resistant, and abrasion-resistant.
Likewise Vibram, which is a high performance rubber.
TPU has all of the resistant properties of rubber, but is longer-wearing and more lightweight.
Now, do you have a better idea what you're looking for? Great! Let's move on to the shoes!
How We Chose Our Favourite Cute Non-Slip Women's Work Shoes
Cute is important, but you need more than that, and we aim to please.
We looked at three different styles of footwear: hard-toed work shoes, soft-toed work shoes, and boot-style work shoes with both hard and soft toes.
In addition to style, we considered safety features. And, of course, we examined the quality of materials and construction.
The Best Cute Non-Slip Women's Work Shoes
Hard toe, soft toe, high top, and low. We researched the best so you don't have to.
The Best Cute Non-Slip Women's Work Shoes, Hard Toe
Whether you prefer steel or composite, you don't want to miss these low-cut marvels of workplace safety.
LARNMERN Steel Toe Lightweight Slip Resistant Shoes
Do these look like a steel-toe work shoe? No! And that's the point!
These cool-looking steelies are made from a breathable synthetic mesh fabric. Also, they have a removable EVA insole. Finally, there is a moisture-wicking lining to keep your feet dry and cool.
These shoes come in an incredible 18 different colors, and 20 different sizes. It would be hard for anyone to not find at least one that they like.
Pros:
Breathable
Lightweight
Unisex
Steel toe
Lots of colors and sizes to choose from
Cons:
Lightweight uppers might not provide ultra-firm foot support
Fila Women's Memory Reckoning 8 Slip Resistant Steel Toe Running Shoe
Some situations call for a heavier shoe. If your foot needs more protection or support than a lightweight mesh shoe can provide, then check out these steel toe running-style.
These tough, slip-resistant shoes have leather for strength and synthetic materials for lighter weight. Inside, you'll find memory foam and Coolmax fiber fabric for even more all-day comfort.
If a structured shoe with an athletic feel is more to your taste, then this could be your new favorite work shoe.
Pros:
Strong and supportive
Steel toe
Memory foam footbed
Cons:
Heavier than mesh fabric shoes
Caterpillar Women's Connexion Steel Toe Work Shoe
You may be familiar with Caterpillar as a maker of heavy equipment. Guess what? They also make shoes for people who work with that equipment. The Connexion is one of these shoes.
These steel toe, rubber soled work shoes come in seven different color schemes and a wide range of women's sizes. They also come in wide widths.
Also, customers praise their roomy fit and breathability.
Pros:
Steel toe
Structured for support
Roomy fit
Breathable
Lots of different color schemes
Cons:
Heavier than a synthetic mesh shoe
Timberland PRO Women's Powertrain Sport Alloy Toe SD+ Industrial and Construction Shoe
Timberland is best known for its ruggedly fashionable hiking boots. But they also make really cool-looking work shoes.
These alloy-toe safety shoes are made from durable ripstop nylon. The fiberglass shank and dual-density outsole combat fatigue to help you stay on your feet as long as you need to.
These shoes come in three different colors and a wide range of both medium-width and wide-width sizes.
Pros:
Lighter alloy toe protection
Fiberglass shank for arch support
Structured outer supports your foot
Wide range of sizes and widths
Cons:
A bit heavier than a synthetic mesh shoe
Skechers Synergy Sandlot Work Boot
Can a hard-toe work shoe get cuter than this? Not by much, in our opinion!
This athletically-inspired shoe has an alloy toe protector and slip-resistant rubber soles. There's also a memory foam footbed. The outer is made from nubuck.
This cool work shoe comes in two different colorways and women's sizes and half-sizes from five to nine.
Pros:
Breathable nubuck outsole
Alloy toe protector
Memory foam footbed
Cons:
Cute Non-Slip Women's Work Shoes, Soft Toe
In some work situations, you don't need a hard toe. In those cases, a hard toe might even weigh you down. Here are some of our favorite soft-toe slip-resistant work shoes.
Sticky Comfortable Work Shoes for Women
These waterproof, are made from durable rubber. That might sound hot, but they're also equipped with an absorbent footbed to help keep your feet dry.
These slip-ons come in nine different colors, and are available in women's sizes and half-sizes from five to 11.
If you're looking for a waterproof, slip-resistant work shoe, this might be the shoe for you.
Pros:
Waterproof
Easy on, easy off
Lightweight
Cons:
Not as much foot or arch support as a lace-up shoe
ZONKIM Womens Non Slip Running Shoes
How about a stylish athletic-inspired non-slip work shoe?
These lightweight, are made from breathable synthetic mesh. They have a comfortable memory foam footbed and moisture-wicking insoles.
The soles themselves are lightweight and slip-resistant.
These shoes come in 15 different colors and patterns, and are available in women's sizes and half-sizes from 5.5 to 12.
Pros:
Lightweight
Wide ranges of sizes
Memory foam footbed
Breathable
Lots of different colors
Cons:
Might not be as supportive as a heavier shoe
Skechers Work Eldred - Relaxed Fit
These athletically inspired leather from Skechers offer not only style, but the support you need to stay on your feet.
These shoes are loaded with comfort features, such as a removable memory foam insole, a mesh collar and heel panel, and a lightweight shock-absorbing midsole.
What's more, it comes in a respectable range of women's sizes and widths, including extra wide. If you need a supportive shoe in extra wide, these could be one to check out.
Pros:
All-leather construction
Cooling features
Shock absorption
Medium and extra-wide widths
Cons:
Small selection of colors
Crocs Unisex-Adult Bistro Graphic Clog, Slip Resistant Work Shoes
Everyone loves Crocs, but did you know they make special? They do! And they're adorable!
Crocs designed these shoes for the specific needs of workers in the hospitality, food service, and healthcare fields. They're lightweight and comfy. They also resist slippage like a champ.
And with a back strap, they won't be slipping off your feet, either. These shoes come in seven different patterns and a wide range of sizes for both men and women.
Pros:
Specifically designed for on-your-feet jobs
Back strap keeps them on
Lightweight and breathable
Wide range of sizes and patterns
Unisex
Cons:
May not be the best for people who need supportive shoes
Skechers Work Comfort Flex SR - HC
Skechers does it again with these cute, slip-resistant.
These are made from durable, breathable textile treated to repel water and stains. Their lace-up design gives just the right combination of lightness and support.
Even better, there's a wide number of prints, patterns, and colors to choose from, as well as medium and wide widths.
Pros:
Slip and stain resistant
Repels water
Medium support
Breathable
Large number of cute patterns and colorways
Cons:
Not all designs available in all sizes
The Best Cute Non-Slip Women's Work Shoes, High Top
When you need ankle support as well as foot support, it's time for a boot. Here are some of the best ones on the market today.
Timberland Women's Nellie Double Waterproof Ankle Boot
If a is what you're after, then you can't do much better than Timberland. These boots cost a little more, but many people agree that they're worth it.
These women's boots have seam-sealed waterproofing, removable anti-fatigue foot beds, and a breathable mesh lining. Also, they have rubber soles and tough, direct-attach construction.
These are soft-toe boots, so if you're looking for steelies, these aren't it. But if you're looking for quality construction, you've found it.
Pros:
Tough construction
Waterproof
Breathable
23 different colors
Wide range of women's sizes and half-sizes
Wide widths available
Cons:
Carhartt Women's Rugged Flex 6 Inch Composite Toe CWF5355 Work Boot
Carhartt has been making hard-wearing, comfortable workwear since 1889. These women's continue the tradition of quality.
These are rugged leather boots with a rubber outsole and cement construction. Toe protection is lightweight, comfortable composite.
They don't come in a huge variety of colors, but this boot is so attractive you don't need more than one.
Pros:
Leather upper
Cement construction
Rubber outsole
Composite toe
Wide range of women's sizes
Cons:
The Last Word
The right work shoe not only protects you from slips and falls, but supports you through your busy workday. The key to choosing the best work shoe is knowing your needs.
Do your feet need firm support, or are you more interested in a lightweight shoe? Does your job call for ankle support? Which is more important, water-resistance or keeping cool?
And last, but certainly not least, hard toe or soft?
When you've taken in all of these considerations, you might wonder if a cute shoe is too much to ask for. It's not! Today's market has something for every need and every taste.
Do you have a favorite work shoe? What makes it the best? We' love to hear about it!
Featured image by Joseph Redfield from Pexels